CENTRAL FLORIDA WEDDING VENUES
                       FEATURED WEDDING VENUE:                        THE HOWEY MANSION
There is no shortage when it comes to Orlando Wedding Venues, and my list of Florida wedding venues that I love to work at is as diverse as they come. From 5 Star Disney Resorts to Rustic Barns, there is something for everyone! Although there are a ton of venues I adore, there is something extra special about The Howey Mansion. 

Just by viewing the Howey Mansion wedding pictures below it is easy to see how beautiful the venue is. My favorite feature of this mansion venue are the walls, both inside and outside of the venue. I especially love how the pinks and purples look in wedding portraits. From a wedding photographer's perspective there are countless spots that are perfect for wedding pictures. The venue is also versatile both in style and space. There are plenty of options for ceremony and reception space, allowing each wedding to be unique. 

As beautiful as this Historic wedding venue is, it's appearance not what makes it my favorite. What makes this venue stand out to me is that it allows for engaged couples to not just have a wedding, but to have a wedding EXPERIENCE. For starters, the staff at the mansion is incredible and is sure to make your venue visit a memorable part of your wedding planning experience. It also seems to attract the type of couple who truly appreciates extra touches that make it memorable it its own special way. From Bourbon Tasting in the downstairs speakeasy to Flaming Desserts from Arthur's Catering, each wedding I've attended at this Florida wedding venue has had a special treat in store for their guests. 

To top of the wedding experience this one of a kind wedding venue offers, they have the Mr. William J. Howey Weekend Getaway Wedding Package. This package allows 13 guests to spend 2 nights at the mansion. This is a package that I highly recommend whether you are local or you are looking for a destination wedding venue. When my husband and I got married we rented our mansion wedding venue for the weekend (our wedding was in Pittsburgh), and had an amazing wedding weekend with our wedding party. When I look back to our wedding day it was all such a blur, but what I remember most was that we really got to relax, enjoy ourselves, spend a little extra time with the people who were in our wedding, and experience all that came with having a wedding. As a bonus, Howey Mansion feeds you and your guests breakfast on the wedding day! 

View pictures, a featured inspiration blog, and our featured vendor below! Be sure to subscribe to the email list to have wedding planning tips, trends, and inspiration sent straight to your inbox! 





Wedding Pictures From The Howey Mansion 
Click/tap to view larger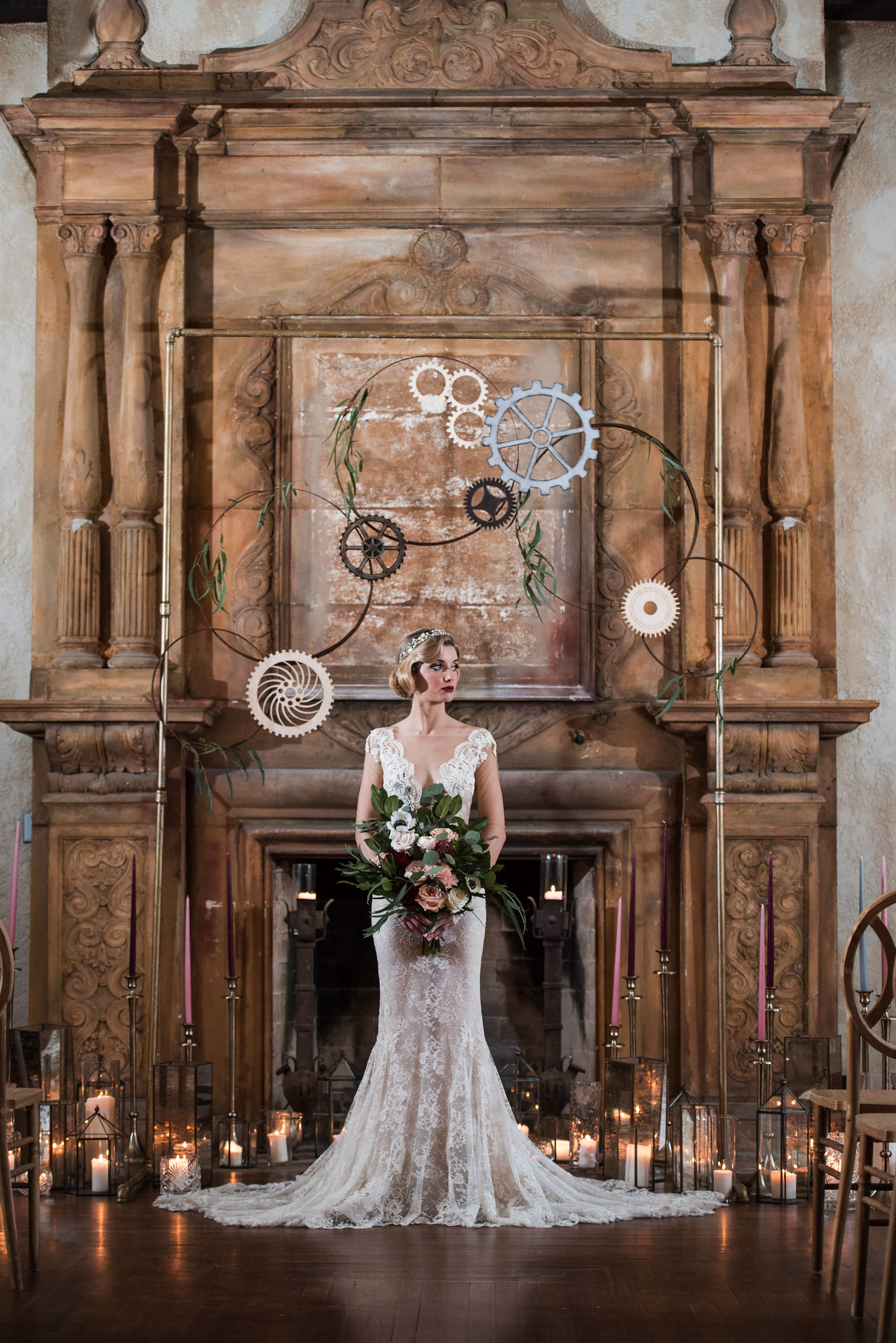 Featured Vendor: The Bridal Finery
I am all about couples having incredible experiences when it comes to the wedding planning process, and you won't find a better experience for wedding dress shopping than the one you will receive at The Bridal Finery. This Winter Park Bridal Boutique is unique in that they offer a boutique experience along with designer gowns at a fraction of the price. Private appointments and an extensive knowledge and love for all things wedding fashion makes styling brides to perfection their claim to fame. Check out the video above (ignore the part where you just see the top of their heads, we got vertical format vs. horizontal going on here, but the video has great info in it) to learn what The Bridal Finery is all about and for helpful tips on traveling with your wedding dress. Make sure to follow them on Facebook to see the videos in the correct format, and to keep up with their weekly videos for plenty of tips and helpful advice on all things bridal! 

Featured Blog: 
My first time photographing The Howey Mansion was for a Victorian Inspired Styled Shoot. Head over to the blog to check out this blush and burgundy wedding inspiration shoot and find the list of all of the amazing vendors who worked so hard to create something magical!